e360 Giving / Monk Donate
We're excited about the new e360 Giving. And if you're a Monk Donate customer, we think you will be, too. We value our Monk Donate customers, but we want to be sure we offer you only the best -- in technology, security, and functionality. We get a lot of questions, and we've summarized the main differences below: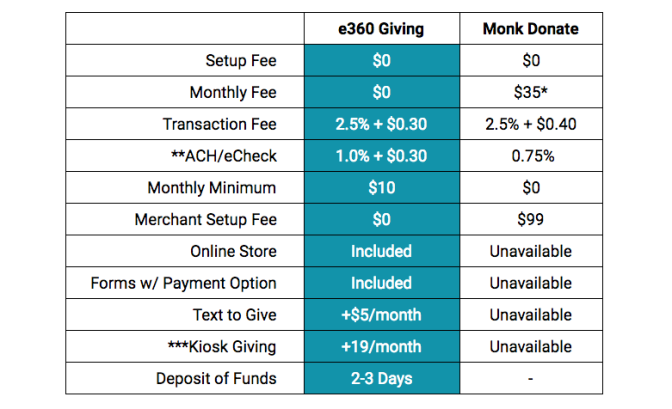 Additional Notes:
The setup time for e360 Giving is usually only 24 hours.
* Fee dependent on merchant provider.
* Additional fees may apply for chargebacks and monthly minimums for Monk Donate.
*** There is a $19 per month fee to enable kiosk giving -- equipment lease or purchase is available.
A final point of comparison is the ongoing development and support. While we will still provide customer help, the Monk Donate platform will not be updated going forward. Our efforts are transferring to e360 Giving.
If you're ready to switch to e360 Giving, contact Support and get started right away.