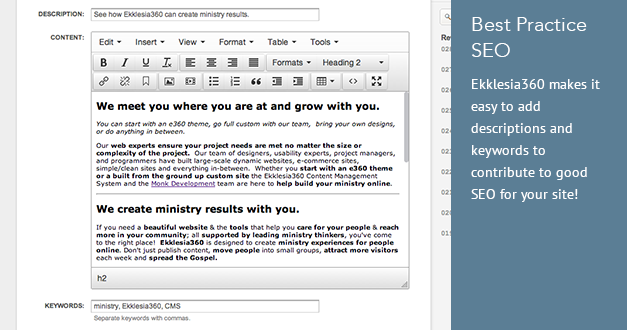 Your members may know about your church website, but in order to grow your church and include new visitors, you need to ask: can anyone else find my church website?
SEO, or search engine optimization, is the key to getting found online. The idea is simple: people search for "churches near me," and if your church website is optimized, your church shows up in search results.
It can be hard to be feel well-versed in SEO for church websites. Did you know Google's search algorithms change all the time? They don't do it make us communicators confused! Rather, they do it continually improve user experience to make it easier for the searcher to find exactly what they're looking for. That's a good thing––we all get better search results every time. But that also means we always have to be right on top of our SEO game all the time!
We implement the following "SEO-friendly" practices to ensure Ekklesia 360 makes a positive impact your website so that you can get all the SEO benefits as possible.
Great SEO for Churches Includes:
Keyword research
Create clean, readable URLs, optimized for search engines
Give each page its own description
Create a custom meta description that fits the keyword
Optimize your site maps to make it easier for search engines to index your site
Give appropriate and custom 301 redirects to ensure well-ranked content is never compromised.
We keep up with the trends, so you don't have to.
In addition to the expertise in SEO for church websites we offer, Ekklesia 360 gives you the option of opting-in to a variety of networks that help syndicate your content into relevant sites that may spread the word about products, messages, and ideas much faster than simple link development. This will help you spread the word about your products.
All sites using Ekklesia 360 are built on the same database, which provides the strictest privacy on one hand, but massive content syndication on the other.
This goes a long way in advertising and marketing. As more sites link to each other in the networks, combined with strict XHTML and CSS development, the SEO kicks in and delivers a higher ranking in search results.