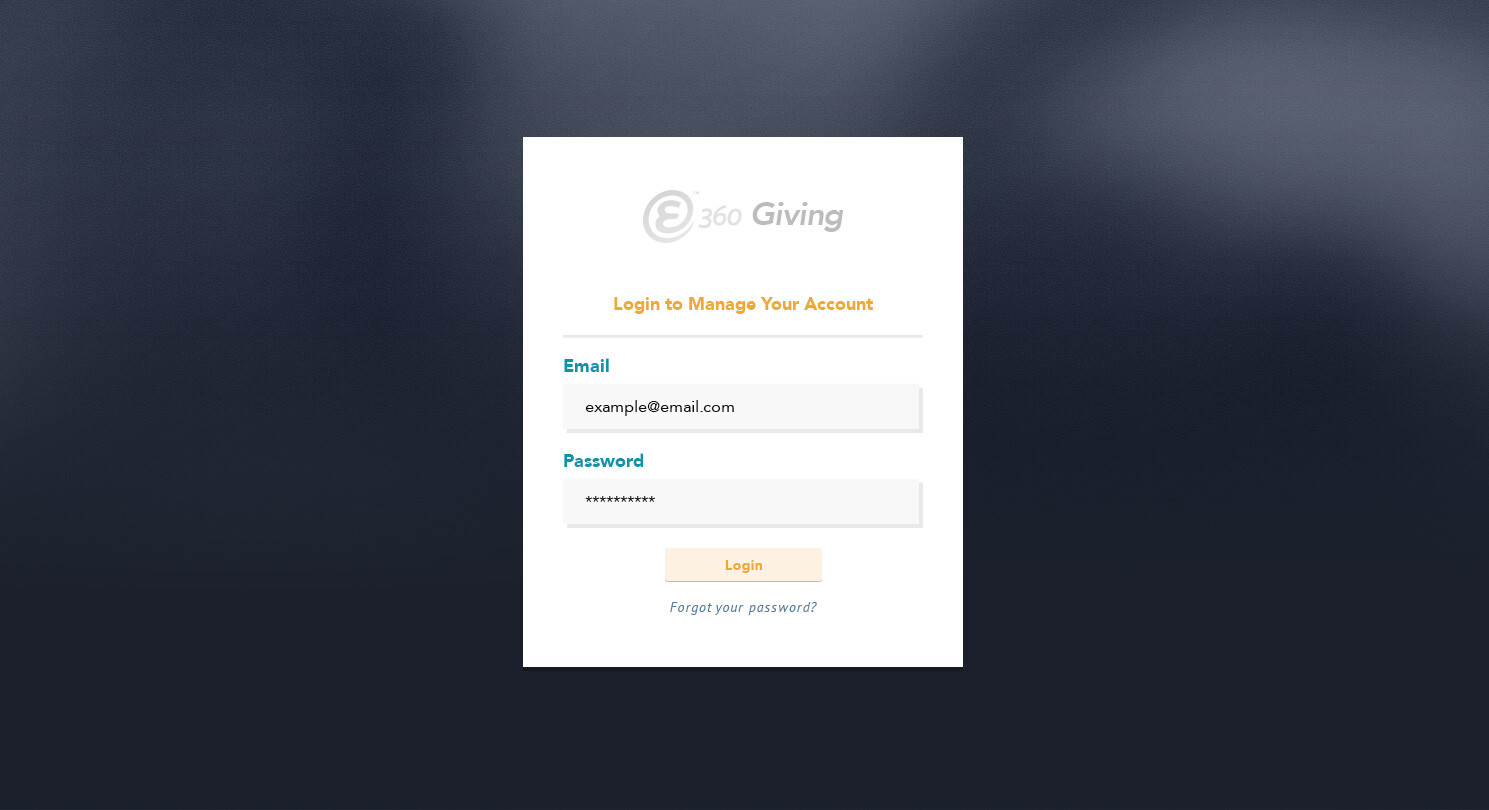 We know there's a lot of ways to process money online, and we want to offer you only the best -- in technology, security, and functionality. That's why we're excited to offer, e360 Giving.
With e360 Giving, you now have a great way to allow your members to give from anywhere, including your church website, mobile device, text-to-give or via giving kiosks right in your church -- or wherever you have wi-fi.
Members can easily and securely give using a customized page that matches the look and feel of your church website. And, to ensure easy giving for all members, donors are not required to log in to give.
Recurring Giving
Our versatile giving tools also give your members the option to set up recurring giving. Donors can specify an amount, adjust the frequency themselves, set a specific number of installments, and pledge a donation amount to a specific fund or campaign. This gives your church a greater ability to estimate giving dollars and to forecast budgets.
Security
Of course, our easy-to-use giving platform also offers your donors peace of mind with the highest level of online security available. We process tithes and offerings with PCI Level 1 compliance. Your office staff and your members can rest assured that your online donations are in a safe and secure environment. On top of all that we don't charge you any annual regulatory PCI compliance fees.
Reporting
With e360 Giving, your administrative time is cut dramatically with access to hundreds of reports. From your control panel, you can view a variety of custom reports filtered by person, transaction, fund, and date range. Track and forecast monthly trends with graphical reports to view history, recurring giving, and more.
Pricing
We know how absolutely important pricing is when you're making the right online giving choice for your church. Our solution, e360 Giving, is only $10/mo. The transaction fees are just 3%+$0.39 for credit/debit cards and 1%+$0.39 per transaction for ACH donations. No hidden costs, just flat rate honest pricing. We handle the entire transaction, from merchant account to credit card processor to ensure that all fees are upfront and transparent. You can see an overview of the pricing structure here.
Debit / Credit / ACH
You have the ability to make the decision about which payment methods best fit your ministry. This is not a one-size-fits-all solution. Accepting varying types of payments must fit with the mission and vision of your ministry. Churches can choose to accept Credit, Debit and ACH as means of payment, or any combination of the three.
Kiosk Giving: +$19/month each
Our Giving Kiosks are an optional add-on to your service with e360 Giving. They are easy to use, easy to manage and incredibly affordable. Kiosks make a fantastic addition to your giving suite and we even offer wall mounts or free-standing countertop or floor mounts to suit your needs. Talk to a giving team member today about adding e360 Giving kiosks into your mix.
Text Giving: +$5/month
You also have the option to add text giving to your online giving account. With text giving, your ministry would receive a designated phone number to share with your members. Set up is quick and easy, your members can automatically give by texting the amount they wish to donate to the number. They can also designate a special fund with a text message. It's that easy. Add on text giving for only $5 a month by logging into your admin area of e360 Giving today.
Interested in learning what e360 Giving can do for your church ministry? Learn more here!