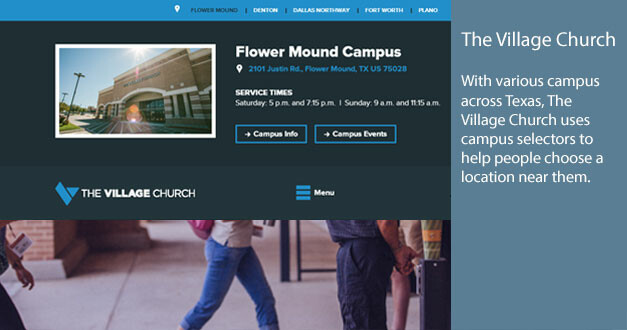 Ekklesia 360 is trusted by some of the largest multisite churches in the nation to power their websites.
The Village Church
Eagle Brook Church
New Life Church
Port City
Through our work with these churches and many others, we've learned some of the distinct online challenges multisite churches face. As a result, we've crafted campus logic and technology solutions to help multisite churches communicate effectively with their communities online.
What multisite features does Ekklesia 360 offer?
We've built Ekklesia 360 to easily handle all the online challenges a multisite church encounters.
Campus location selectors
Filterable campus specific content
Smart campus selector (remembers campus selection for next visit)
Individual campus landing pages
Consistent branding across campuses
Live streaming / Online Campus